"We're delighted to be a finalist in the Drogheda & District Businesses Awards 2022. We would greatly appreciate your vote by following the link."
Many Thanks. Team Smugglers"

Locally landed at Port Oriel, Clogherhead our seafood is fresh, healthy and mouthwateringly delicious. Why not sample a selection of local delicacies with our light bites menu.
Soup Of The Day
Hearty broth sure to warm you up served with fresh soda bread
Hearty Seafood Chowder
An incredible broth with chunks of locally sourced fresh and smoked fish in a white wine based sauce with fresh soda bread
The Smugg Wings
Hot | Peri Peri | BBQ – Our famous crispy golden wings served with blue cheese or garlic mayo dip and celery sticks
Crunchy Caesar Salad
Crisp lettuce, crispy bacon, garlic and herb croutons, caesar dressing and parmesan shavings
Add chicken … €3.00 | Add Fresh Prawns … €4.50
Melted Goats Cheese Salad
Fivemiletown goats cheese grilled to perfection with mixed baby leaves, red onion, candied walnut and succulent beetroot
Prawn Pil Pil
Freshly caught Dublin Bay prawns sauteed in garlic butter with chilli and fresh herbs with garlic ciabatta
Classic Moules Marinere
Locally sourced fresh mussels cooked in a beautiful white wine, garlic herb and cream sauce with fresh soda bread
Smuggler's Spiced Mussels
Locally sourced fresh mussels with a Smugg twist, simmered in a chorizo, chilli, garlic and tomato sauce
The Original Scampi Tacos
Our famous panko coated Dublin Bay prawns with fresh mango and pineapple salsa with microgreens in a soft taco shell with marie rose sauce
Scampi Tacos Small
As above with 2 tacos
Dunany Crab Claws
Fresh Dunany crab claws tossed in garlic butter and chilli served with garlic ciabatta

Smuggler's Scampi
Our famous panko coated Dublin Bay prawns cooked to perfection and served with rustic chips and homemade tartare or marie rose sauce … Large | Small
The Cajun Scampi
Cajun spice scampi with garlic butter or marie rose sauce
The Garlic Scampi
Garlic coated scampi with garlic or sweet chilli mayo
Captain's Fish & Chips
Clogherhead fresh fish golden battered with rustic chips or mash, garden pea puree and homemade tartare sauce
Buttermilk Fish & Chips
As above pan fried in a light and tasty buttermilk coating
The Beef Burger
8oz gourmet beef burger in a brioche bun with smoked applewood cheese, sliced gherkin, crisp lettuce, pickled onion and Ballymaloe relish served with rustic chips
The Chicken Burger
Chunky chicken fillet coated in our secret prices in a brioche bun with crisp shredded lettuce, tomato, ruby slaw and garlic mayo served with rustic chips
The Halloumi Burger
Shallow fried halloumi cheese in a brioche bun with crisp shredded lettuce, tomato, sliced avocado and spicy buffalo sauce served with rustic chips
Grilled Lamb Kebab
Succulent and juicy lamb burger in a sourdough flatbread, pickled red onion and drizzled with garlic aioli
Smuggler's Ribs & Wings
Low cooked pork ribs in our homemade BBQ sauce served with our famous wings in your favourite sauce served with rustic chips
Crab & Prawn Pil Pil Combo
Dunany claws and Dublin Bay prawns in a fresh herb and garlic butter, chilli and white wine sauce with garlic sauteed potatoes and ruby slaw
Slow Braised Beef Cheek
Succulent beef served on a bed of creamy mash, baby carrots and topped with pearl onion jus
Baked Supreme Of Chicken
Supreme of chicken served on a bed of mash, wilted spinach, tender-stem broccoli with creamy mushroom and white wine sauce
Smugg Seafood Pie
Locally sourced fresh and smoked fish in a white wine cream sauce topped with creamy mash and served with tender-stem broccoli and baby carrots
Pasta Gamborini
Linguini pasta and Dublin Bay prawns sauteed in garlic with diced cherry tomatoes finished with fresh herbs, garlic and baby spinach
Add Garlic Bread … €1.50
Mediterranean Risotto
Roasted peppers, onions and fresh tomato tossed in a tomato sauce and finished with shredded basil
Butternut & Pea Risotto
Sauteed butternut squash in a white wine and garlic cream with peas, baby spinach and parmesan shavings
Thai Green Or Red Curry
Sugar snap, garden peas and baby spinach in a traditional Thai coconut curry with scented basmati rice and naan
Add Chicken … €3.00 | Add Prawns … €4.50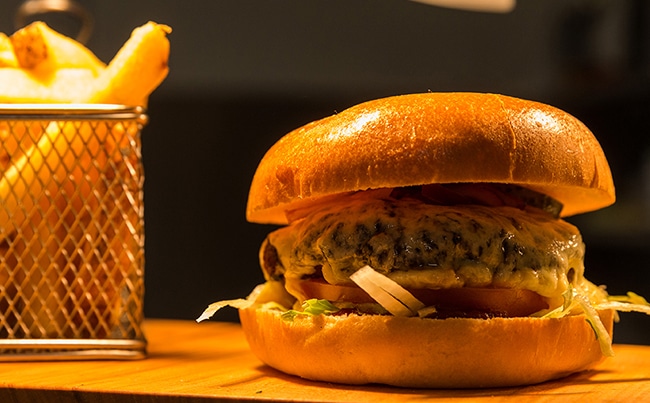 Come and see, eat and admire Louth. Sealouth is a new scenic seafood trail that captures what's best about County Louth's 70 km+ coastline, the stunning scenery and, of course, the finest local seafood. For more info ask any member of staff and make sure to check out the website www.sealouth.ie
The Smuggler's Rest
Harbour Road,
Clogherhead,
Co. Louth.
Ireland.
A92 XH2D
041 988 9302
Monday - Wednesday
Available for private party bookings
Thursday - Sunday
Bar available until late