Delicious, fresh, mouth-watering seafood locally sourced daily from the Boyne Valleys largest fishing port. Port Oriel produces some of the world's most sought after seafood; Crab, Razor Clams, Dublin Bay Prawns, and a whole selection of White Fish which you will find cooked to perfection on our menus …
Our Breakfast & Brunch Menus
Breakfast Menu
Served Thursday – Sunday
10am – 12.30pm
Little Pirate's Menu
Little Pirate's Breakfast … €4.50
Fried egg, sausage, beans and toast
Kids Pancakes … €4
Served with maple syrup or nutella
Kid's Toast … €2
Served with one breakfast item of your choice
Sausages & Skinny Fries … €5.50
Extras
Extra Breakfast Item … €1
Skinny Fries … €3.50
Our fish is smoked locally in Port Oriel Harbour by husband and wife duo James and Renee Kirwan of East Coast Seafoods Smokehouse
The Captain's Breakfast … €11
Fried egg, 2 bacon, 2 sausages, grilled tomato, mushrooms, beans, hash brown, black and white pudding, toast
The Crewman's Breakfast … €8
Fried egg, 2 bacon, 2 sausages, grilled tomato, mushrooms, beans, toast
Scrambled Eggs With Smoked Salmon … €8
Served with toasted sourdough bread
Avocado … €7.50
Poached eggs, smashed avocado served on toasted sourdough bread
Eggs Benedict … €8
Poached eggs, bacon, hollandaise sauce served on toasted English muffin
Eggs Royale … €8.50
Poached eggs, smoked salmon, hollandaise sauce served on toasted English muffin
French Toast … €7.50
Served with bacon and maple syrup
American Style Pancakes … €7.50
Served with bacon and maple syrup OR Served with berries and whipped cream
Eggs Your Style … €4.50
Fried, scrambled or poached eggs served with toast
Homemade Scones … €3
Served with fresh cream and jam
Drinks
Filter Coffee … €2
Espresso … €2.60
Americano … €2.90
Cappuccino … €3.10
Latte … €3.10
Flat White … €3
Mocha … €3.40
Tea … €2.40
Herbal Tea … €2.50
Hot Chocolate … €3.40
Iced Latte … €3.30
Iced Americano … €3.30
Extra … €0.60
Extra Shot | Non Dairy Milk: Almond | Coconut | Syrup: Caramel, Vanilla | Hazelnut
Juice … €2.50
Orange, Apple
Juice Box … €1.40
Orange, Apple
Brunch Menu
Served Thursday – Sunday
12.30pm – 4pm
The Captain's Breakfast … €11
Fried egg, 2 bacon, 2 sausages, grilled tomato, mushrooms, beans, hash brown, black and white pudding, toast
The Crewman's Breakfast … €8
Fried egg, 2 bacon, 2 sausages, grilled tomato, mushrooms, beans, toast
Scrambled Eggs With Smoked Salmon … €8
Served with toasted sourdough bread
American Style Pancakes … €7.50
Served with bacon and maple syrup OR Served with berries and whipped cream
B.L.T. … €6.50
Bacon, lettuce and tomato in toasted sourdough bread
Add Rustic Chips … €2
Smugglers Seafood Chowder … €9
Crisp baby gem lettuce, lardons of bacon, garlic and herb croutons, Caesar dressing topped with shaved parmesan
Add Garlic Prawns … €4.50
Add Cajun Chicken … €3
Sticky Chicken Wings … small €8.50 | large €12.50
Choose BBQ or spicy sauce served with blue cheese dip
Smugglers Scampi … full portion €21 | half portion €14
Our famous panko coated Dublin Bay prawns cooked to perfection and served with rustic chips and homemade tartare and marie rose sauce
BBQ Full Rack Of Ribs … €17.50
Served with ruby slaw and hand cut rustic chips
Smuggler's Beef Burger … €14.50
Ballymaloe relish, smoked applewood, sliced gherkin, lettuce, beef tomato, pickled red onion served with rustic chips
The Captain's Fish & Chips … €16.50
Lightly battered locally sourced fish served with garden pea puree, homemade tartare sauce and served with rustic chips
6oz Steak Sandwich … €16.95
Cooked to your liking served on a toasted ciabatta with lettuce, sliced beef tomato, red onion marmalade and garlic mayo, rustic chips
Chicken Wrap … €10.95
Southern fried chicken, crisp iceberg lettuce, pickled red onion in sweet chilli sauce served with rustic chips
Sides
Rustic Fries … €4
Battered Onion Rings … €3.50
Mash / Champ … €3.50
Side Salad … €3.50
Skinny Fries … €3.50
Mayo Based Sauce … €0.70
Garlic Mayo | Sweet Chilli Mayo | Tartare Sauce | Marie Rose Sauce
Pepper Sauce … €1.50
Ruby Slaw … €1.50
Hot Drinks
Irish Coffee … €6.50
Baileys Coffee … €6.50
Calypso Coffee … €6.50
French Coffee … €6.50
Hot Whiskey … €6.50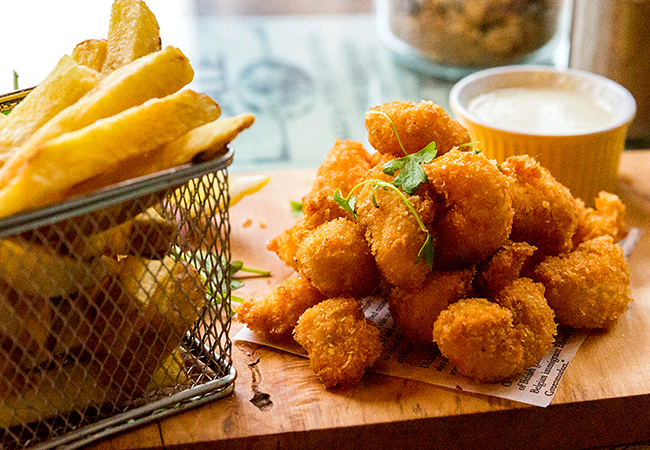 Our fish is smoked locally in Port Oriel Harbour by husband and wife duo James and Renee Kirwan of East Coast Seafoods Smokehouse.
Delivered straight to our chefs daily by local seafood supplier Seamus Dunne.
Our famous prawns / scampi are 100% Irish langoustines caught by Clogherhead fisherman in Irish waters. Considered a delicacy across Europe our chefs collect them daily from Pat Lynch in Dundalk Bay Seafoods which is only a 2 minute walk from The Smuggler's Rest.
The Smuggler's Rest
Harbour Road,
Clogherhead,
Co. Louth.
Ireland.
A92 XH2D
041 988 9302
Full Breakfast Available:
Monday - Thursday ..... 10am - 12.30pm
Brunch Available:
Monday - Thursday ..... 12.30pm - 4pm