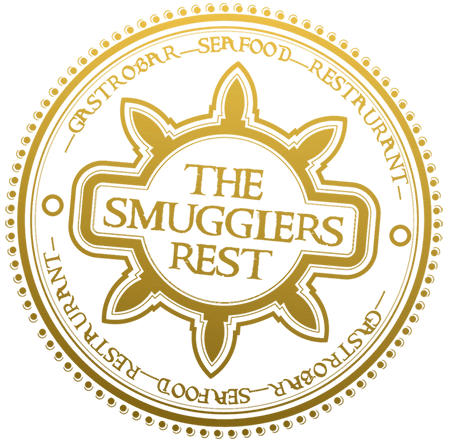 served with homemade soda bread
served with red onion and cranberry chutney on mixed leaf salad with balsamic glaze
Smugglers Seafood Chowder
€10.50
locally sourced fresh and smoked fish in a white wine cream sauce
Slow Braised Pork Belly
€7.95
served with spiced red cabbage and baby spinach, apple chutney, cider jus
Sticky Chicken Wings
sml €8.50 | lrg €13.00
fried until golden crispy all tossed up in either BBQ or hot sauce and served with blue cheese dip
mixed baby leaf, beetroot, candied walnuts, cherry tomato, pickled red onion, balsamic dressing
sautéed prawns done in garlic butter, chilli and white wine finished with fresh herbs served with salad and toasted sourdough
BBQ Half Back Of Ribs
€10.50
slow braised short ribs glazed with BBQ sauce, served with ruby slaw
Battered Onion Rings
€3.50
Garlic Mayo | Sweet Chilli Mayo | Tartar Sauce | Marie Rose Sauce
Selection Of Ice Cream
€6.00
topped with homemade butterscotch sauce
warmed chocolate cake served with vanilla ice cream
Cheesecake Of The Day
€6.00
warmed chocolate cake served with vanilla ice cream
stuffed with vanilla cream and topped with rich chocolate sauce
Traditional Christmas Pudding
€6.00
served with brandy custard, crème chantilly
Hazelnut & White Chocolate Chip Brownie
€6.00
with warm chocolate sauce and vanilla ice cream
The Captain's Fish & Chips
€16.50
light battered locally sourced cod served with garden pea puree, homemade tartar sauce and served with chips
Smugglers Scampi
sml €14 | lrg €21
our famous panko coated Dublin Bay prawns cooked to perfection and served with rustic chips and homemade tartare and marie rose sauce
served with creamy mash potatoes, wilted baby spinach, buttered asparagus, lemon cream sauce
pan fried darne of salmon with wilted spinach, herb baby potatoes and a lemon cream reduction
locally sourced seafood in a creamy white wine sauce topped with herb mash potatoes
Supreme Of Chicken
€15.70
served with roast root vegetables, red wine and tarragon jus
served with herb stuffing, mash potatoes, roast vegetables and red wine jus
Slow Braised Beef Cheek
€18.00
served on creamy mash potatoes, baby carrots and a pearl onion jus
Smugglers Beef Burger
€14.50
Ballymaloe relish, smoked applewood, sliced gherkin, lettuce, beef tomato, pickled red onion served with rustic chips
Smugglers Chicken Burger
€13.95
crisp shredded lettuce, tomato, garlic mayo and ruby slaw on a brioche bun accompanied by hand cut rustic chips
shallow fried halloumi cheese, shredded lettuce and tomato topped with spicy buffalo sauce, sliced avocado served on a brioche bap with rustic chips
Wild Mushroom & Spinach Risotto
€13.50
sautéed wild mushrooms in a white wine and garlic cream finished with baby spinach and parmesan shavings
Little Pirate's Breakfast
€4.50
fried egg, sausage, beans and toast
served with maple syrup or nutella
served with one breakfast item of your choice
Sausages & Skinny Fries
€5.50
Extra Breakfast Item
€1.00
Made without gluten options available – please ask your server
Full Captain's Breakfast
€12.00
fried egg, 2 bacon, 2 sausages, grilled tomato, mushrooms, beans, hash brown, black and white pudding, toast
Small Crewman's Breakfast
€8.00
fried egg, 2 bacon, 2 sausages, grilled tomato, mushrooms, beans, toast
Vegetarian Breakfast
€7.50
2 fried eggs, grilled tomato, mushrooms, beans, hash brown, toast
Scrambled Eggs With Smoked Salmon
€8.50
served with toasted sourdough bread
poached eggs, smashed avocado served on toasted sourdough bread
poached eggs, bacon, hollandaise sauce served on toasted English muffin
poached eggs, smoked salmon, hollandaise sauce served on toasted English muffin
poached eggs, white spinach, hollandaise sauce served on toasted English muffin
served with bacon and maple syrup
American Style Pancakes
€7.50
served with bacon and maple syrup OR Served with berries and whipped cream
fried, scrambled or poached eggs served with toast
served with fresh cream and jam
Extra Shot | Non Dairy Milk: Almond | Coconut | Syrup: Caramel, Vanilla | Hazelnut
Smugglers Seafood Chowder
€9.00
locally sourced fresh and smoked fish in a white wine cream sauce (4,5,6,8,9,14)
Traditional Caesar Salad
€9.00
crisp baby gem lettuce, lardons of bacon, garlic and herb croutons, caesar dressing and topped with shaved parmesan
Add Garlic Prawns + €4.50 | Add Cajun Chicken +€3.00
fresh mussels cooked in white wine, fresh herb and finished with cream. Served with soda bread
Sticky Chicken Wings
sml €8.50 | lrg €12.50
100% Irish chicken wings fried until golden crispy all tossed up in either BBQ or hot sauce and served with blue cheese dip (1,4)
Fivemiletown Goats Cheese Salad
€9.95
mixed baby leaf, pickled beetroot, candied walnuts, cherry tomatoes, balsamic dressing
Golden Fried Calamari
€9.00
cajun spiced rings of squid served on crisp baby leaf salad with garlic and lime aioli and marie rose sauce
Smugglers Scampi Tacos
€14.00
our famous panko coated Dublin Bay prawns with fresh mango salsa and microgreens in a soft taco
The Captain's Fish & Chips
€16.50
lightly battered locally sourced fish served with garden pea puree, homemade tartar sauce and served with rustic chips
Smuggler's Scampi
full €21 | hlf €14
our famous panko coated Dublin Bay prawns cooked to perfection and served with rustic chips and homemade tartare sauce (1,4,5,7)
Thai Green Curry
Veg - €12.95 | Chicken - €14.50 | Prawns - €16.50
sugar snap garden peas and baby spinach in a traditional Thai coconut curry served with scented basmati rice and naan bread
Penne Arrabiata
Veg … €12.95 | Chicken … €15.95
sauté red peppers, chilli and garlic in a lightly spiced tomato and basil cream topped with shaved parmesan and garlic bread
locally sourced smoked and fresh fish cooked in a white wine cream sauce finished with fresh herbs and garlic ciabatta
6oz Steak Sandwich
€16.95
cooked to your liking served on a toasted ciabatta with lettuce, sliced beef tomato, red onion marmalade and garlic mayo, rustic chips
Smugglers Beef Burger
€14.50
Ballymaloe relish, smoked applewood, sliced gherkin, lettuce, beef tomato, pickled red onion served with rustic chips
The Chicken Burger
€13.95
crisp shredded lettuce, tomato, garlic mayo and ruby slaw on a brioche bun accompanied by hand cut rustic chips
Oriental Stir Fry
Veg - €12.95 | Chicken - €14.50 | Prawn - €16.50
sautéed peppers, onions and mushrooms in homemade stir fry sauce finished with baby spinach, spring onion, sesame seed served with egg noodles or basmati rice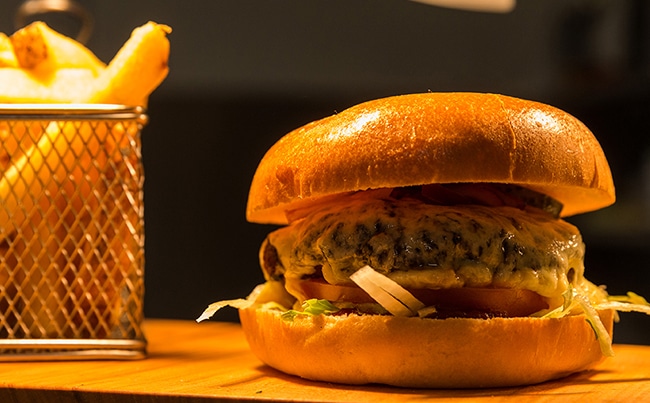 Allergen Information
1. Celery | 2. Cereals Containing Gluten | 3. Crustaceans | 4. Eggs | 5. Fish | 6. Lupin | 7. Milk | 8. Molluscs | 9. Mustard | 10. Nuts | 11. Peanuts | 12. Sesame Seeds | 13. Soya | 14. Sulphur Dioxide (sometime known as Sulphates)
in a tomato sauce and garlic bread
Battered Onion Rings
€3.50
Selection Of Ice Cream
€6.00
topped with homemade butterscotch sauce
warmed chocolate cake served with vanilla ice cream
Cheesecake Of The Day
€6.00
warmed chocolate cake served with vanilla ice cream
stuffed with vanilla cream and topped with rich chocolate sauce
Traditional Christmas Pudding
€6.00
served with brandy custard, crème chantilly
Hazelnut & White Chocolate Chip Brownie
€6.00
with warm chocolate sauce and vanilla ice cream
Port Package
€39 Per Platter
cocktail sausages, chicken goujons, rustic chips, BBQ chicken wings
Dips: Garlic Mayo | BBQ Sauce | Sweet Chilli
Starboard Package
€49 Per Platter
cocktail sausages, chicken goujons, rustic chips, onion rings, fish goujons, BBQ chicken wings
Dips: Garlic Mayo | BBQ Sauce | Sweet Chilli
The Stern Package
€55 Per Platter
chicken goujons, beef sliders, BBQ chicken wings, rustic chips, onion rings, scampi tacos
Dips: Garlic Mayo | BBQ Sauce | Sweet Chilli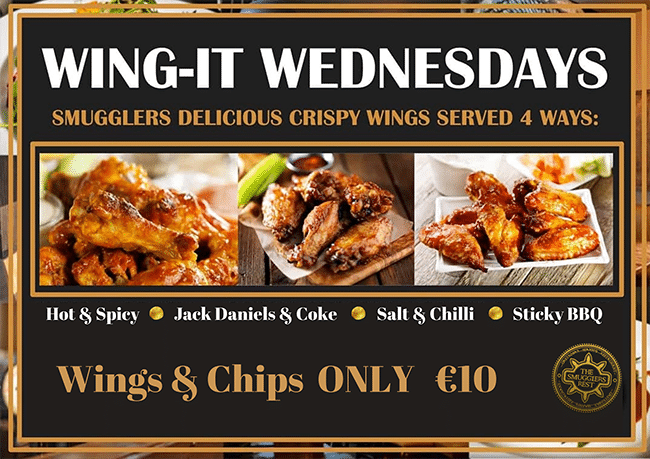 locally sourced fresh and smoked fish in a white wine cream sauce
Chicken Wings
sml €7.50 | lrg €12.50
BBQ or spicy sauce served with blue cheese dip
Garlic Bread With Cheese
€4.50
mixed baby leaf, beetroot, candied walnuts, cherry tomato, pickled red onion, balsamic dressing
light battered locally sourced cod served with garden pea puree, homemade tartar sauce and served with chips
our famous panko coated Dublin Bay prawns cooked to perfection and served with rustic chips and homemade tartare and marie rose sauce
The Chicken Burger
€12.50
shredded lettuce, tomato, garlic mayo and ruby slaw on a brioche bap served with rustic chips
Ballymaloe relish, smoked applewood, sliced gherkin, lettuce, beef tomato, pickled red onion served with rustic chips
sugar snap garden peas and baby spinach in a traditional Thai coconut curry served with scented basmati rice and naan bread
Add Chicken … +€2.50
Add Prawns … +€3.50
sautéed peppers, onions and mushrooms in a homemade stir fry sauce, chilli, finished with baby spinach, spring onion, sesame seeds served with egg noodles or basmati rice
sautéed red peppers, chilli and garlic in a lightly spiced tomato and basil cream topped with shaved parmesan and garlic bread
Add Chicken … +€2.50
Add Prawns … +€3.50
tortilla wrap stuffed with stir fry veg, rice, soy sauce, baby spinach, shredded iceberg and marie rose sauce
tortilla wrap stuffed with stir fry veg, rice, soy sauce, baby spinach, shredded iceberg, southern fried chicken and marie rose sauce
tortilla wrap stuffed with Dublin Bay prawns with pineapple and mango salsa stir fry veg, rice, soy sauce, baby spinach, shredded iceberg and marie rose sauce
Battered Onion Rings
€3.50
in a tomato sauce and garlic bread
Soft Drinks
Can … €1.40
Juice Box … €1.30
Beer
Any 4 for €16
Heineken … €4.80
Coors … €4.80
Birra Moretti … €5.30
Beer Of The Month … €5.00
Hop House 13 … €4.80
Carlsberg … €4.80
Guinness … €4.60
Cocktails
The Shipwreck … €7.00
Strawberry Daiquiri … €7.00
Sex On The Beach … €7.00
Mojito … €7.00
Aperol Spritz … €7.00
Pre-orders are Highly Advised
(041) 988 9302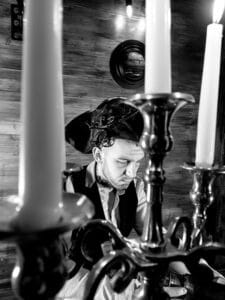 Local folklore has it that Captain Redman sailed a small ship to Ireland from Spain. The journey was long and plagued with bad luck. Members of the Captains crew were dying on board frequently with no explanation as to why. Captain Redman could not provide the sailors with an explanation which made them grow very suspicious of the Captain. Rumours were circulating the Captain wanted the sailor's dead, so he could take off with the luxury goods on board. By the time the ship reached the coast of Ireland, only the Captain and six crew members were left alive. Taking shelter from the stormy weather along the coast at Clogherhead, the remaining crew members and Captain Redman came ashore at the cave to seek sanctuary from the storm.
The men camped at the cave for many nights hoping the storm would pass. Every night the winds howled like the wailing screech of the banshee. Each night another of the crew died in mysterious circumstances, and eventually, the two remaining men concluded that Captain Redman must be responsible. They ambushed him and chopped off his head, sticking it on a spike at the mouth of the cave entrance. Legend has it that anyone who ventures to the cave at night, might catch a glimpse of the headless ghost of Captain Redman in search of his head.
Which one do you think was the source of the cave's name? In honour of The Captain, The Smugglers Rest hosts an annual Halloween theatrical dinner with a crew of dead sailors and the ghost of Captain Redman himself. This is an event not to be missed.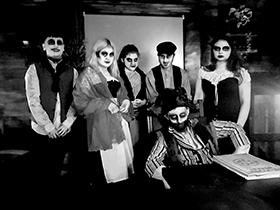 Welcome to The Smuggler's Rest, Clogherhead
The Smuggler's Rest
Harbour Road,
Clogherhead,
Co. Louth.
Ireland.
A92 XH2D
041 988 9302
Thur
5pm - 9pm (food, bar late)
Sat
1pm - 7.30pm (bar late)
Monday - Wednesday
Available for private party bookings
Thursday - Sunday
Bar available until late