Our famous prawns/scampi are 100% Irish Langoustines caught by Clogherhead fishermen in Irish waters. Considered a delicacy across Europe our chefs collect them daily from Pat Lynch in Dundalk Bay Seafoods which is only a 2-minute walk from The Smugglers Rest.
Our crab claws/meat is 100% native Clogherhead Brown Crab which is considered a local delicacy. Caught in Dundalk Bay using traditional potting methods and landed at Port Oriel Harbour daily it doesn't get fresher. Our crab meat/claws are supplied to us by brothers Noel and James Matthews from Dunany Crab.
Our white and shellfish is delivered straight to our chef's daily by local seafood supplier Seamus Dunne. Seamus provides us with the best quality Irish seafood available.
Read below to hear more about our wonderful local suppliers.
Dunany Crab
Dunany Crab is a family business in the true sense – where brothers Noel and James Matthews are joint owners, while their sister Annette Bradley and nephew Jonathan Farrell work hands on in the business.  Established in 2003, they take pride in supplying delicious crab claws and crabmeat all over the east coast.  They are located at Port Oriel, Clogherhead with access to fresh local sustainable seafood right on their doorstep.  The crab is caught fresh daily from the waters of Dundalk Bay using traditional crab pot methods.  Their white crab meat has a delicate, sweet flavour, a sweet aroma and naturally flaky texture.  While their brown crab meat has an even pat like texture and a rich full flavour.  The colour and texture of the brown meat varies throughout the year.
We proudly have Dunany Crab on our menu when in season.
For more info visit – www.dunanycrab.wordpress.com/
Dundalk Bay Seafoods
Dundalk Bay Seafoods Ltd is one of Ireland's leading seafood processors specialising in Dublin Bay Prawns also known commonly as Langoustines, Scampi, and the Norway Lobster. In recent years they have expanded their product range to include Razor Clams, King Scallops and Blue Lobster which are all locally sourced. Dundalk Bay Seafood's is a family-owned business now in its third generation and since 1975. The Smugglers Rest has been using Dundalk Bays Dublin Bay Prawns in our now famous Smugglers Scampi since opening. Our scampi could not be fresher and most importantly locally sourced.
For more info visit – www.dundalkbayseafoods.com
The Smoke House (East Coast Seafood)
Both James and Renee have the sea flowing through their veins with each having a family history deeply involved in the fishing industry for generations. Renee's father, grandfather and great grandfather were all trawler men and some of the family still own boats in the popular coastal port.
James got involved with the trawlers at the young age of 14 following in the footsteps of both his grandfather and great grandfather, enjoying summer trips on the local boats before taking to the seas full time at the age of 18. James always wanted to work with fish but wanted to spend more time ashore and so East Coast Seafood was born. With the success of their shop in NAAS Co. Kildare they have begun smoking their own produce right here in Clogherhead. We are delighted to stock the best quality produce that this husband & wife duo bring fresh to us daily.
For more info visit – www.eastcoastseafood.ie
The Rusty Compass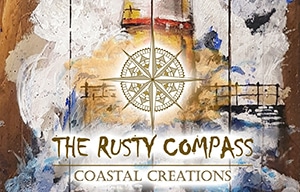 It's with great pleasure that we support local artists. We are proud to display the wonderfully talented Sinead Kierans' art pieces on our walls. These mostly nautical themed pieces tie in perfect with the Smugglers Rests aesthetics. The Rusty Compass – Coastal Creations was set up in 2020 by Sinead. Living by the sea in Clogherhead, Co. Louth, gives daily inspiration to allow Sinead to create wonderful art pieces and collections. Some of her pieces are made of old pallet wood and timber collected from the coast around Clogherhead and Port Oriel and turned into beautiful and original canvasses that are unique to The Rusty Compass. All of Sinead's pieces are for sale so if something appeals to you feel free to ask a member of staff.
For more info visit – https://therustycompass.ie/
The Smuggler's Rest
Harbour Road,
Clogherhead,
Co. Louth.
Ireland.
A92 XH2D
041 988 9302
Thur
5pm - 9pm (food, bar late)
Monday - Wednesday
Available for private party bookings
Thursday - Sunday
Bar available until late